Skip to Main Content
It looks like you're using Internet Explorer 11 or older. This website works best with modern browsers such as the latest versions of Chrome, Firefox, Safari, and Edge. If you continue with this browser, you may see unexpected results.
Dr. Eric Green, M.D., Ph.D. - 2022 Antonija Prelec Lecturer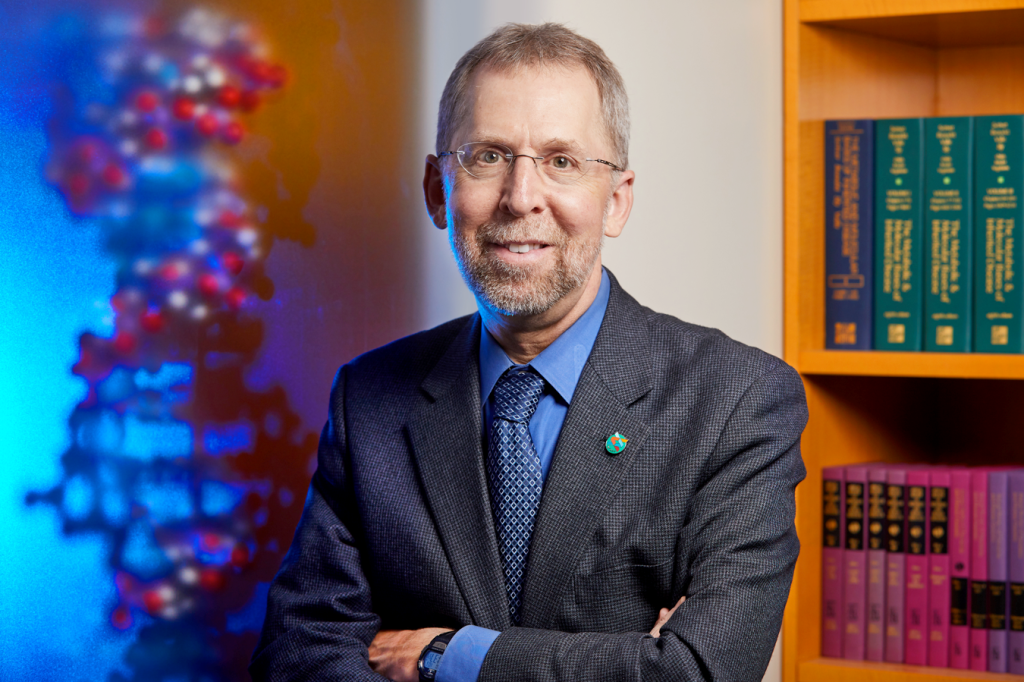 Dr. Eric Green, M.D., Ph.D.
Dr. Eric Green, M.D., Ph.D., is the director of the National Human Genome Research Institute (NHGRI) at the United States Institutes of Health (NIH). Dr. Green has played an integral role in the Human Genome Project and has co-authored more than 380 scientific publications.
Dr. Green has guided the NHGRI through two major cycles of planning to ensure that investments in genomics will enhance human health. Dr. Green led the efforts to map, sequence, and understand mammalian genomes and has been studying genomics for over 2 decades. His studies have focused on human genetics and identified and characterized human disease genes, including genes that cause hereditary deafness, vascular disease, and inherited peripheral neuropathy.
2022 Prelec Memorial Lecture
Dr. Green's Recent Publications
1000 Genomes Project Consortium: A global reference for human genetic variation. Nature, 526:68-74. 2015. [PubMed]
Bourne PE, Lorsch JR, and Green ED: Sustaining the biomedical big-data ecosystem. Nature, 527:S16-S17. 2015. [PubMed]
Bourne PE, Bonazzi V, Dunn M, Green ED, Guyer M, Komatsoulis G, Larkin J, and Russell B: The NIH Big Data to Knowledge (BD2K) initiative. J Am Med Inform Assoc, 22:1114. 2015. [PubMed]
de Filippo C, Key FM, Ghirotto S, Benazzo A, Meneu JR, Weihmann A, NISC Comparative Sequence Program, Parra G, Green ED, and Andrés AM: Recent selection changes in human genes under long-term balancing selection. Mol Biol Evol, 33:1435-1447, 2016. [PubMed]
Beck TF, Mullikin JC, NISC Comparative Sequencing Program, and Biesecker LG: Systematic evaluation of Sanger validation of next-generation sequencing variants. Clin Chem, 62:647-654, 2016. [PubMed]
Green ED, Rubin EM, and Olson MV: The future of DA sequencing. Nature, 550:191-181. 2017. [PubMed]
Hindorff LA, Bonham VL, Brody LC, Ginoza MEC, Hutter CM, Manolio TA, and Green ED: Prioritizing diversity in human genomics research. Nat Rev Genet, 19:175-185. [PubMed]
Lowenstein PM, Green ED, and Wold WSM: Maurice Green - A pioneering virologist. Virology, 515:261-262. 2018. [PubMed]
Green ED: Genomics – Past, present, and future: a letter to my daughter. Am Biol Teach, 80:253, 2018.
Tabak L, Green ED, Devaney S, and Somerman M: Precision health: bringing oral health into the context of overall health. Adv Dent Res 30:31-33, 2019. [PubMed]
Manolio TA, Bult CJ, Chisholm RL, Deverka PA, Ginsburg GS, Jarvik GP, McLeod HL, Mensah GA, Relling MV, Roden DM, Rowley R, Tamburro C, Williams MS, and Green ED: Genomic Medicine Year in Review: 2019. Am J Hum Genet. 105:1072-1075. [PubMed]
Berkman BE, Brody LC, Collins FS, and Green ED: Karen Rothenberg's (not so) secret roles and contributions at the U.S. National Institutes of Health. J Health Care Law Pol'y 22:167-171, 2019.
Baudhuin LM, Biesecker LG, Burke W, Green ED, and Green RC: Predictive and precision medicine with genomic data. Clin Chem 66:33-41, 2020. [PubMed]